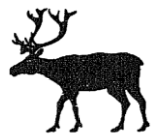 The "Cariboo" is described and the finished pattern is illustrated by Dr. F. Boas (1, p. 229, Fig. 1, 3, p. 570, Fig. 525a). It is described, but not figured, by Dr. Haddon (5, p. 216).
It is given by Dr. Boas as coming from the Eskimos of Cumberland Sound, Baffin Land, where it is known as Tuktuqdjung = a Cariboo.
The finished figure is curious and unsymmetrical, and bears some resemblance to a cariboo with the head and horns directed to the left. The Second and Third movements are peculiar to this figure.