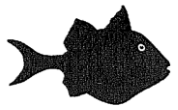 Dr. Haddon has kindly given me this unpublished figure which he collected in Torres Straits. The native name is Nageg.
String Figure Notation (SFN)
Steps 1-2 of Well
re rT, kl: rT ma-th ct triangle gr 2 ntFSN pu rbnFS, ex
re rT, kl, rT mo-gr original rTN pu-pt 2rPS
rL mt-th-gr 2rTN, re rT, rT ma-th rFN pu rntFS, re rF
re lT, kl: lT pu lbnFS, ex: re lT, kl
lT pu lbnFS, ex, re lT, kl
lT mo lbnFS mo 2bSS gr hN ml, arr.
The only difficulty likely to be encountered in forming this very pretty figure is in the Eighth movement; if necessary, however, the left middle finger can be used to draw the hanging near index string away from you under the two lower strings of the figure, and into a position from which it can be easily picked up on the back of the thumb.