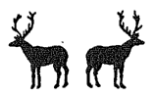 This is a Klamath Indian figure from the same source as the "Owl's Net."
String Figure Notation (SFN)
OA
T mo FN mu nLS pu fLS (F may lift nLS to assist)
FM md-th tTN ht bnTS; MF up-ma, F pu bnTS: re T
T pu tFN
lTF gr-ht rnTS (close to rT), re rT. tw former rnTS bt lTF so nTS becomes fTS and hold N over rLN lTF md-th former rTN ht rfLS. rT mo hanging nS pu hanging fS. repeat for lH.
Repeat step 5 except lTF th former rTN ht rnLS (near instead of far) and so on, then repeat for lH
Re FN, ex drawing S very tight and moving H alternately up and down to arr
The Fifth and Sixth movements of this figure exhibit what appear to be artificial methods, and yet it is difficult to see how the same results could be produced by any quicker or more simple procedure.